Greenwich Cosmetic Dentistry

Greenwich dentist, Gerald Cohen, DDS is a family dentist, and cosmetic dentist. Greenwich Cosmetic Dentistry provides advanced cosmetic dentistry, dental implants, and general dentistry. Greenwich Cosmetic Dentistry is an Invisalign preferred provider.
Sedation dentistry is offered as an option for patients who may be a little anxious or would just rather sleep through a procedure.
The best technology for the best care ... We are very pleased to provide our patients with the Dental 3D Cone Beam Scanner for faster, safer, and better ondontology diagnostics. Our Digital Dental Impression System creates an exact replica of your teeth, which results in a more accurate fitting crown or bridge.
Greenwich's Smile Makeover and Restoration Dentist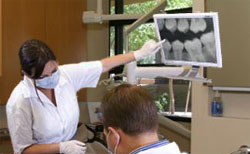 Patients can be assured of the results that come from our on-site dental laboratory offer the most modern techniques in dental implants, ceramic crowns and bridges and porcelain laminate veneers.
We have solutions that will make you smile. Hear what our smile makeover patients say: Video Stories
Ceramic crowns are a gorgeous choice for patients who want the ultimate in aesthetics. Dr. Cohen's lab works with all of the modern technologies including: Empress crowns, Procera crowns, and Lava crowns, as well as other computer aided crown systems.
Leaders in Cosmetic Dentistry and Implantology
Dr. Cohen is a graduate of Columbia University's School of Dental Medicine. He is a former director of Dental Implantology at Lutheran Medical Center in Brooklyn, NY, and a former faculty member at New York University's Continuing Dental Education Program in dental implantology.
Explore our web site for dental information and see why so many people have decided to visit our office. We serve patients from Greenwich, Cos Cob, Darien, Fairfield, Old Greenwich, Port Chester, Purchase, Rye Brook, Rye, White Plains, and across Connecticut.
For your convenience, we provide Apple iPads in our reception area so that you may update your patient information, check email, or surf the web while you are here.
"If you are considering a smile makeover, or want to ensure the health of your mouth and teeth for the years to come, you want the best dentist available." - Dr. Cohen
Call Greenwich Cosmetic Dentistry now for your free cosmetic and restorative consultation!
Rye dentist
Greenwich Cosmetic dentistry is just minutes from Rye, NY. The Rye dentist provides full cosmetic services.

Rye, NY dentist - Greenwich dentist

Rye dentist providing dental implants, cosmetic dentistry, and restorative dentistry services.

Rye, NY dental implants

Rye dentist, Gerald Cohen is uniquely qualified to provide advanced dental implant services
Rye, NY cosmetic dentist
Advanced cosmetic dentistry.