The iTero Element intraoral scanner is designed to deliver speed, reliability, intuitive operations, and outstanding visualization capabilities. Communications with patients is improved a they can see exactly what the dental professional sees at the same time.

iTero Element scans are engineered to work with the Invisalign system,

The Digital Impression System is state-of-the-art dental technology that system creates an exact replica of your teeth. The results are a more accurate fitting crown, bridge or Invisalign impression.

After the scan, a 3D virtual model appears on the screen. The results are immediate. The image model is instantly available in our dental lab where our lab technicians can exactly reproduce crowns that match the original teeth.

The Digital Impression System provides the opportunity to help patients in ways that we could not easily do before.

If you have ever had a conventional impression taken, you know just how uncomfortable the process is. Putty is messy, tastes unpleasant, and can make you gag.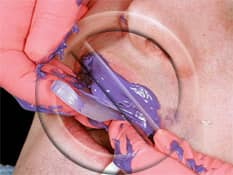 With our state of the art digital imaging, the only thing that touches your teeth is the tip of a hand held wand.