The dental office of Dr. Gerald Cohen provides the very best full-service dental care. We are specialists in cosmetic and restorative work, dental implants, and family dentistry. We offer sedation dentistry for patients who may be anxious or would just rather sleep through a procedure. Our in-practice dental lab ensures you the finest quality materials and workmanship.
Our goal is to give each patient exactly the treatment they need. We are prepared to take more time on each procedure to meet your needs. Our patients put their trust in us to provide them with the best dental work they can get. As a result, we work harder to exceed your expectations.

I always look forward to the reward of seeing my patients smile with satisfaction for a job well done. - Dr. Cohen
Treatment Philosophy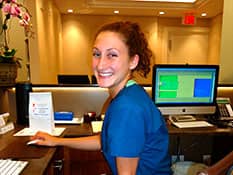 We offer our patients boutique-like dental treatment. Each patient is scheduled with ample time – no patient is rushed. Patients appreciate the quiet, comfortable, and immaculate setting.
After you have been thoroughly examined for your particular needs, we will provide a written treatment plan and fee estimate. Whatever your goal is, we will find a way to make it work for you.
Tour the Dental Center
Greenwich Cosmetic Dentistry - Office Tour

Greenwich Cosmetic Dentistry
Dr. Vermani

Greenwich Cosmetic Dentistry
Iana

Greenwich Cosmetic Dentistry
Opratory

Greenwich Cosmetic Dentistry
3D Scanner

Greenwich Cosmetic Dentistry
Iana Assisting

Greenwich Cosmetic Dentistry
Dr. Vermani
Calm, clean and organized - these are the words our patients use to describe our dental office. Dr. Cohen's office is designed with two purposes in mind: to create a warm and comfortable environment for his patients and to house the state-of-the-art dental equipment.
Our office includes its own dental laboratory, allowing us to custom-make all our patients' restorations (crowns, bridges & laminate veneers) in-house. Dr. Cohen personally oversees the fabrication of restorations, thereby maintaining high quality control standards.
Make your appointment today. Greenwich Cosmetic Dentistry offers free cosmetic and restorative consultations!