A dental implant is an artificial tooth root replacement and is used in prosthetic dentistry to support the replacement of a tooth or group of teeth. A dental implant is made of surgical grade hypo-allergenic titanium that is surgically placed into your jaw to hold a replacement tooth, bridge or denture.

Is a Dental Tooth Implant my best solution?
When both the tooth and root are damaged beyond repair, the best permanent replacement is a single-tooth implant: a single unit combining a dental implant with a ceramic crown. Usually, the implant will also get a post or abutment screwed onto it to support the ceramic crown.
This solution both looks and functions just like a natural tooth. Often, depending on the patient's mouth, an immediately functioning temporary tooth can be placed. This helps to create an excellent aesthetic result, with shorter treatment time and minimized pain.
Sedation dentistry is also offered as an option for patients who may be a little anxious or would just rather sleep through a procedure.
How long does a Tooth Implant take?
Once an implant has been placed in the jaw, the bone around the implant needs to heal for eight weeks up to six months. After this period of healing, a temporary support post called a healing abutment will be placed on the implant, and finally a new crown can be placed on the abutment. The exact sequence of the steps and the time it takes for each can be explained on a patient basis.
Under the proper circumstances, a tooth can be placed on an implant the same day the implant is placed. Dental implants look and feel so natural, you may forget you ever lost a tooth. Dr. Cohen's Greenwich dental practice and lab are unique in that Dr. Cohen is one of a handful of dentists trained in both surgically placing your implant(s) and fabricating the crown(s).
Our on-site Dental Lab Provides a Perfect Match
We understand these limitations and create a perfect match for you in our own dental lab. Color, shape, and alignment make the difference.
Mini Dental Implants
Mini dental implants are made of the same strong titanium alloy as conventional implants, but they are significantly smaller (about half the diameter). Mini implants can be used in most of the same restorative procedures as full-size implants, but they're particularly useful in denture stabilization. They can even be used to retrofit existing dentures. Because of their size, mini implants can usually be placed and restored in the same office visit, and the healing time is greatly decreased.
Single Tooth Replacements - are relatively quick and simple, as one tooth is replaced by one single implant.
Multiple Tooth Replacements are an implant retained "fixed dental bridge". Dental implants are permanently placed in the jaw then connected to the abutment crowns.
Full Arch Replacements. Some dentists refer to these type of implants as "full mouth restorations." A full arch replacement is a permanent, long-lasting, and functional alternative to removable dentures for people who are missing most or all of their teeth.
Implant-Supported Over-dentures - are anchored by full-size or mini dental implants for superior function and stability. They can be removed daily to ensure proper cleaning and maintenance.
Computer Guided Dental Implants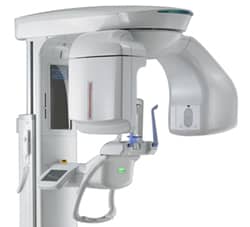 With computed tomography 3-D imaging, we are able to create a digital replica of your jawbone. Using this digital image, we can place implants with more accuracy and safety than ever before, while avoiding sensitive and critical structures such as nerves, roots, and even sinuses. The convenience and precision of 3D scanning also helps us reduce the overall treatment time required for dental implants.
Am I a Candidate for Dental Implants?
Many patients suffering from advanced tooth decay, root canal failure, trauma to the mouth, or severe natural wear and breakdown of their teeth are benefiting from this revolutionary option in restorative dentistry. However, there are still many considerations before you decide on dental implants. For example, implants are best performed after adolescence, when the teeth and jawbone are fully developed. Additionally, the implant procedure can be more complicated for individuals with gum disease, active diabetes, immune deficiencies, and for patients who smoke. To ensure that you get the treatment that's right for you, visit our Greenwich dental office for a full implant evaluation.
Advantages of Dental Implants
When a tooth's root is diseased or has been damaged beyond repair and the jaw can no longer support the tooth, the best replacement may be a single-tooth implant consisting of an artificial dental crown that is connected to the implant with a post or abutment.
Dental Implants have none of the negatives associated with bridgework or conventional dentures. Dental implant(s) can fully restore the biting and chewing forces of natural teeth.
Call Greenwich Cosmetic Dentistry now for your free tooth implants dental consultation!