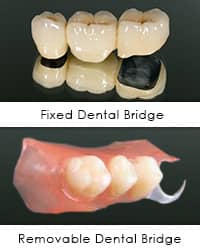 A dental bridge replaces one or more missing teeth to help restore dental function and/or aesthetics. A dental bridge requires at least one tooth on both sides of the missing tooth or teeth to support the bridge.
A dental bridge restores needed chewing function and aesthetics. Tooth loss can cause problems such as; the loss of chewing effectiveness, increased stress on the remaining teeth, and the shifting of teeth behind and above the lost tooth. Tooth loss also creates an aesthetics problem for many people.
There are four options for replacing missing teeth: a fixed-cemented dental bridge, a dental implant, a partial denture / removable bridge, or dentures.
When the jawbone is compromised and will not support a dental implant, or the patient does not want to undergo implant surgery, a fixed dental bridge or a removable dental bridge offers a good solution for patients missing one or more teeth in a span.
A fixed dental bridge is cemented to each tooth on both sides of the missing tooth or teeth to support the bridge.
A removable dental bridge is held in place with a fastener that is attached to the supporting teeth with a wire or acrylic clasp. A removable dental bridge is a good choice when the number of missing teeth in a span is too great or the jawbone and/or abutting teeth are too compromised to support a fixed bridge.
One or more missing teeth can adversely affect the appearance and functionality of your smile. Missing teeth can cause shifting of the teeth, TemporoMandibular Joint disorder (TMJ), speech impediments, an increased risk for periodontal disease and a greater chance of tooth decay.
The materials used for the bridges include gold, porcelain fused to metal, or, in the correct situation, porcelain alone. The amount and type of reduction done to the supporting teeth varies slightly with the different materials used. The patient having such a bridge must be careful to clean well under this prosthesis.
What is the procedure for getting a Dental Bridge?
During your first visit, Dr. Cohen examines the health of your gums and other teeth to evaluate if you are a candidate for a dental bridge. If you are a candidate for a dental bridge, you are given a local anesthetic so your dentist can prepare the teeth required to support the bridge. If the support teeth are decayed or badly broken down, Dr. Cohen may have to build them back up before they can be used to support a bridge.
Next, digital dental impressions are taken with the iTero now, not with putty or PVS. Your bridge is fabricated based on this model by a skilled technician in our own dental lab so that it precisely fits the prepared teeth. It is important that your restoration fit perfectly to avoid additional oral health problems such as tooth decay.
While your bridge is being fabricated, Dr. Cohen fits you with a temporary bridge so the teeth and gums can be protected from damage until your permanent bridge is ready.
The dental bridge procedure is completed when you return to the office to have the bridge fitted and cemented.
Call Greenwich Cosmetic Dentistry now for your free dental bridges consultation!