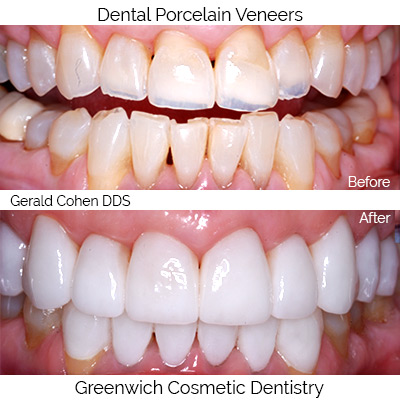 Dental veneers are thin, slightly translucent, wafer of pearly white porcelain that can be applied to a tooth or several teeth. Veneers are typically applied to the visible front teeth in order to create a beautiful smile that does not yellow over time.
Teeth that are stained, cracked, chipped, worn or have open spaces between them can be restored to their original beauty or better than what nature provided.
Dental veneers provide patients with a beautiful smile in a relatively short time without extensive dental work. Porcelain veneers, also called dental veneers and dental porcelain laminates can provide that perfect smile. It is the choice of Hollywood movie stars.
Why Choose Porcelain Veneers?
Porcelain is used because it is durable and provides a beautiful, translucent appearance. Porcelain veneers do not require removing as much of the tooth's original surface, therefore offering a more conservative alternative to crowns. With porcelain veneers in place patients can expect straighter, whiter and more even looking teeth. The nature of porcelain is such that year after year porcelain retains its lustrous glaze making them possibly the longest lasting and most conservative restoration dentistry has to offer.
Dental Porcelain Veneers Procedure
In many cases a no-prep option exists for porcelain veneers, which can give you the beautiful smile you have always wanted with no shots, drills or pain! Paper thin veneers are placed on top of your natural teeth and can be used to close spaces between teeth, reshape chipped or worn teeth or whiten discolored smiles.
Porcelain laminate veneers can be placed in two visits. The technique consists of first planning a very thin layer of outer tooth. An impression is then taken of the prepared teeth. In our dental lab, a ceramist will make very thin porcelain facings consisting of all the changes in shape, size, color and teeth arrangement that are needed to have a great looking smile. During the second visit, the laminates are bonded onto the patients teeth. Porcelain laminates are the most popular technique used for dramatic smile makeovers.
Dr. Cohen will help you decide if a porcelain veneer is the most appropriate system to achieve the most natural-looking restoration for your smile.
Call Greenwich Cosmetic Dentistry now for your free porcelain veneers dental consultation!