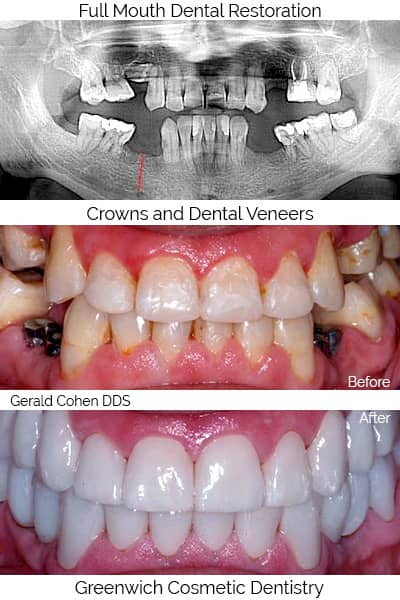 Full mouth restoration, also known as smile reconstruction, is comprehensive care dentistry for the patient whose smile is so broken down that the entirety of one or both arches must be fully restored. This is typically done with porcelain crowns and/or veneers based on the extent of enamel damage.
Many times the need for full-mouth dentistry is caused by a problem within the Temporomandibular Joint ( refereed to as TMJ disorder) which is caused by a poor bite. This combination of problems often results in the teeth being worn and broken to the point that all of them need to be restored. With proper planning and treatment, it is possible to restore teeth to a state of health as good if not better than the teeth have ever been.
Proper diagnosis of the problem and planning the treatment is every bit as important as the treatment itself. Dr. Cohen uses models,which are 3D wax renderings of the proposed new crowns, and special appliances to ensure that the new bite is made in a position comfortable to the patient.
Once the treatment planning phase is completed, the teeth are prepared for the restorations and temporaries are placed. These temporaries look just like the models made in wax and allow the patient a chance to give final approval on all cosmetic concerns while the new porcelain restorations are being made. This also allows us to confirm that the bite is comfortable and stable.
Finally the new restorations are placed and the patient can smile and function with confidence.
Call Greenwich Cosmetic Dentistry now for your free smile restoration dental consultation!