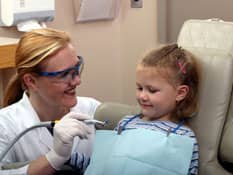 Children find Dr. Cohen's Greenwich office a comfortable and safe place.
Dr. Cohen, a father of young twins, has always enjoyed treating children in his dental practice. "I have been honored over the years to have the chance to help children of all ages. They have taught me so much. Even with children who are fearful at first, we find a way to build rapport, and develop a special bond."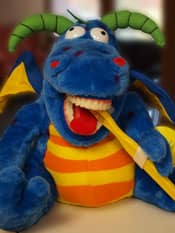 Everyone in the office feels so proud of a child who has a great visit. Kids really enjoy meeting our office mascot, the Dental Dragon, and getting a prize at the end of their visit.
It is important to teach children early the proper methods of dental hygiene and to develop a comfortable trusted dental relationship that will serve them well through their lives.
We are focused on your child's dental care and their dental experience.
Preventative dental checkups can help with the detection of oral health problems long before the onset of symptoms. The American Dental Association (ADA) recommends that you visit your family dentist for a checkup a minimum of two times each year. Such checkups provide routine or deep cleanings to eliminate plaque buildup and prevent tooth decay. If necessary, we provide fluoride treatments to help coat the teeth, a procedure also important in the prevention of tooth decay.
Call Greenwich Cosmetic Dentistry now for your free consultation about dentistry for children!