What you should know about Teeth Whitening, Dental Laminates and Porcelain Veneers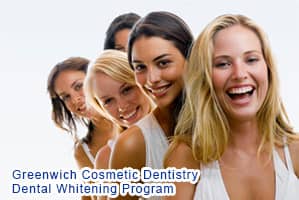 For some patients, simply whitening their teeth will meet all of their aesthetic needs. However, for others, the color of the teeth will be more resistant to whitening, and might require multiple sessions or prolonged treatment. It is just a fact that whitening treatments work better for some people than others.
Zoom® - Laser Whitening
Dr. Cohen uses one of the most advanced Laser Whitening Systems available. Whitening can get your smile looking its best. The Zoom® system provides results that are:
Fast and convenient
Long lasting
Low sensitivity
Proven to be safe and effective
Performed by a Dental Professional


Zoom® - dental whitening
Greenwich Cosmetic Dentistry uses Zoom®, one of the most advanced whitening systems available.
Whitening Method
Treatment Time
Results
Comments

Zoom!


Chair-side
1 Hour
Avg. 8 shades

Immediate Results
Long lasting
Less fade back
Safe & comfortable
Performed by a
Dental Professional

At Home Trays
7 – 14 Days
6 shades

Self applied
Trays
Daily 1.5 hour commitment

Whitening
Strips/Gel
7 – 30 Days
3 – 4 shades

Inconsistent tooth whitening
Slow results

Tooth Paste
1 Month +
1 – 2 shades

Results fade when you stop
Superficial stain removal only
Take Home Whitening
To help you maintain a beautiful white smile we provide a home whitening systems.
Dental Laminates / Porcelain Veneers
Depending on the original shade of the tooth, the patient might prefer treatments other than or in addition to whitening in order to achieve their goal. One alternate treatment would be Dental Laminates / Porcelain Veneers. Each patient's goals and treatment options may differ, which is why your dental consultation is the most important step in achieving your goal. During your consultation, Dr. Cohen will let you know what you can expect from the different treatment options, and which method is most likely to be successful for you.
Your smile is important. It is one of the first things you notice when you meet someone. A whiter, brighter smile is beautiful! It can help you feel better about yourself and make a memorable positive impression.
Dr. Cohen will provide you with more information and help you decide which whitening solution is the most appropriate to achieve your goals.
Call Greenwich Cosmetic Dentistry now for your free cosmetic tooth whitening dental consultation!